Decorating themes sometimes get a bad rap for being cheesy or overdone. But when done well, a theme can make a room feel personal and put together. Whether you would like to incorporate favorite finds from your travels or decor featuring a motif you love, you can pull off the theme of your choice in a subtly chic way.
Here are four theme ideas to try at home, along with tips that will come in handy no matter what the motif that catches your eye.
1. Well Traveled
Tell a story with your decor by incorporating finds from your travels or by highlighting a culture you love. To evoke a sense of place, look at good photography books for inspiration and pick out key elements to replicate at home. For a Parisian-inspired space, for instance, go with a bistro table and chairs or vintage café au lait mugs rather than a bunch of Eiffel Tower souvenirs.
A room, like a novel, is more satisfying when it is well edited, so exercise restraint and display only your favorite pieces. Foundation pieces in your usual style (modern, traditional etc.) will help the room function well — and make the handful of carefully selected treasures stand out even more, as in the gorgeous Moroccan-influenced space shown here.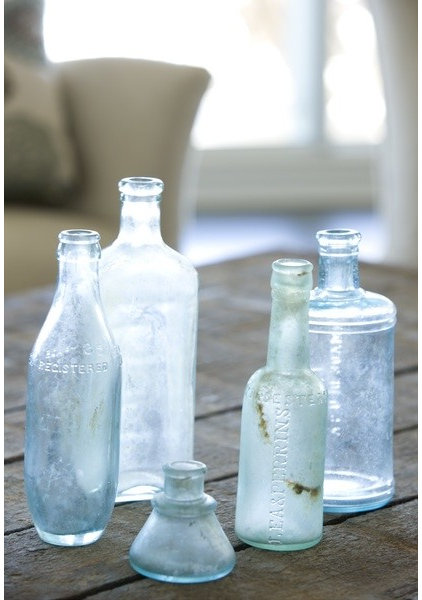 Chic vacation mementos. Cherished treasures from vacations and trips tell a personal story and deserve a special place in every home. Gather up all of your treasures and assess them as a group, as this can spark creative display ideas. Tiny mementos like matchbooks and sea glass have the most impact when grouped together, so consider mounting and labeling them in shadow boxes, or display them in a glass apothecary jar. Use larger items, like vintage glass bottles, as a centerpiece or line them up on a windowsill.
Less is more, so try to winnow your collections to the best examples and the most meaningful treasures, and let go of the rest. Isn't one photo album, lovingly created, more important (and easier to rescue in an emergency) than 10 boxes of jumbled messes that no one looks at?
2. Natural History
The natural world as a decorating theme is quite flexible and inspiring, encompassing everything from insect motifs and bird's nests to botanical prints, natural fibers and found and foraged items from nature.
Support your natural finds with a color palette inspired by the environment that most resonates with you — dunes on a windswept beach, a lush wetland or a dense forest.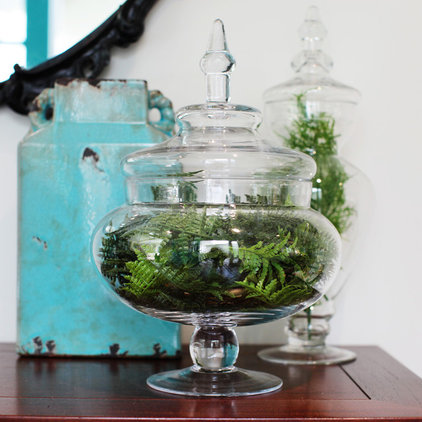 Decorating with natural objects. Every room can benefit from the addition of something from nature. Try adding fresh green plants, cut flowers,terrariums, stones and shells, feathers, branches, driftwood — you name it. You may even discover that these organic finds do more for your rooms than store-bought decor.
3. Birds and Blooms
Floral prints and bird motifs are still trending now — but that doesn't mean they are trendy! These superversatile romantic accents work equally well in traditional and modern interiors, and are worth giving a try today.
If you want to incorporate a theme of birds and blooms into your decor, look for accent pillows, artwork and 3-D objects (like a vintage birdcage) that work thematically and are tied in colorwise.
Noncheesy nursery decor. It's easy to go overboard with themes in the nursery. But as long as you use a light touch, themes can help create an imaginative and personal nest for your little one. Avoiding overly commercial motifs (like cartoon characters) means the space will still feel appropriate a few years down the line.
For a bird theme, try using pale blue or robin's egg on the walls, and seek out nursery art and soft toys featuring birds, feathers, nests or eggs. For textiles, reference the theme in a subtle way with a mix of one or two solids, a stripe and a botanical or geometric print in shades of sky and grass.
4. Nautical
A popular theme with good reason, nautical style manages to be both classic and fresh — as long as it is approached without too heavy a hand. Keep the nautical look current by steering clear of too many dark woods and an excess of decorative items.
You can't go wrong with a crisp, clean color palette of white and blue with bright red accents. Curtains with rope ties inspired by sailcloth, floors painted with a wash of deck paint and a few well-chosen pieces of wall art would complete the look.
General Tips
Creating a theme is as easy as 1, 2, 3. When you are planning your room, think about choosing three ways to bring your theme to life — this ensures that you will make a statement (one or two items might just feel random) without going overboard. A good rule of thumb is to include a fabric print, some sort of art or art object, and a color related to your theme.
In the bedroom shown here, the three items include the nautical maps, anchor-print bed skirts and blue wall color. You can always add a few more subtle touches (like the sailboat on the desk); the point is to keep things simple.
Seek out the authentic.Nothing says "theme gone bad" more clearly than a bunch of knickknacks that are obviously not the genuine article. If you want nautical style, head to a marine supply store or an antiques shop specializing in nautical goods, and scoop up a few vintage fishing floats or lobster traps. But even with the real deal, less is definitely more!
Choosing themed art. Artwork is a great way to tell a story in your home, building on the other elements and really bringing your theme to life. Just remember to choose art because you love it, not only because it fits your theme. Usually this means taking your time and allowing your collection to grow organically over time.
For more information, call 888-838-2177 or email info@lalofts.me
We assist clients in helping them buy and sell  in addition to leasing their condo and loft units . Please contact us for all your real estate needs.
David, Ramiro & Erica
LA Loft & Condo Specialists
Call 888-838-2177
info@lalofts.me