940 East Second Street Lofts

Barker Block

Beacon Lofts

Biscuit Company Lofts

Gallery Lofts LA
Molino Street Lofts

Toy Factory Lofts

Toy Warehouse Lofts
The Arts District, previously known as the Warehouse District and soon to be renamed Industrial Arts District, occupies the eastern side of Downtown Los Angeles. Its borders are roughly Alameda Street on the west, the 101 freeway on the north, the LA River to the east, and 7th Street to the south. The area is sometimes referred to as the "Artist" or "Artists District" on official City of Los Angeles signs.
Recent gentrification has swelled the population, bringing new residents, many of whom are young professionals, to the area. They reside alongside the veteran resident artists and still-functioning industrial and manufacturing businesses.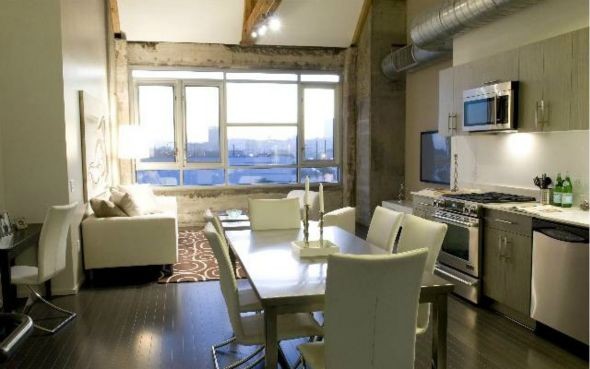 Loft-style apartments and condos in restored industrial buildings now dot the landscape, but the Arts District is still home to a major rail yard, cold storage, warehouses, food processing, furniture and fashion design/manufacturing, personal storage, government facilities and film locations. It is also home to thousands of resident artists in live/work spaces that support creative entrepreneurial businesses and non-profits. In addition, the district is home to the Southern California Institute of Architecture (SCI-Arc), a prominent school of architecture, and the Los Angeles offices of the Daily Journal, California's legal daily newspaper. Well-known restaurants, such as Wurstkuche, Americano, R23, Church & State, Urth Caffe, Villains Tavern and Tony's Saloon are located in the Arts District, shoe and apparel line Royal Elastics along with a variety of eclectic shops and galleries.
At the beginning of 2013 the Art District will see a few more buildings come alive. One particular project is the grand re-opening of the Angel City Brewery, a microbrewery in the historic John A. Roebling's Sons Company building (on the boundary between the Arts District and Little Tokyo), which will offer beer tastings and tours on premises. Another project, which is across the street from Wurstkuche at 833 East 3rd Street will be transformed from a manufacturing building into multiple spaces being leased to retailers and restaurants.